Dean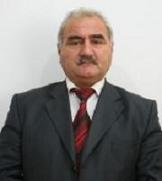 Alizade Hikmet Abdul
Doctor of pedagogical sciences, Professor Hikmet Alizade Abdul had studied the faculty of common technical subjects in Azerbaijan Pedagogical University named after V.I.Lenin and graduated this university with honours diploma during 1973-1978 years. After graduating university Alizade had begun his pedagogical activity in the boarding-school number 9. After working 2 years in that boarding-school Hikmet Alizade had become graduate of the pedagogue in Pedagogical Foreign Language Institute of Azerbaijan named after 50th anniversary of Sovet Union during 1980-1984 years.
After finishing his education Hikmet Alizade had continued his pedagogical activity in the department of "Pedagogue and psychology" of BSU, then he had defended dissertation of candidacy of pedagogical sciences in the Institute of Scientific Research Pedagogical Sciences in Tbilisi in 1985.
Hikmet Alizade who was continuing achiving scientific achivments had owned Doctor of Pedagogical Sciences by defence of "Demographic problems of upbringing" dissertation work in 1996. Hikmet Alizade is the author of several scientific work whose book in the name of "The actual matters of social pedagogue" was novelty in the pedagogical field in 1998. The proper subgects to the demands up-to days had been investigated, indicated some solutions for those problems. He is the dean of the faculty of "Social Sciences and Psychology" since 2006.